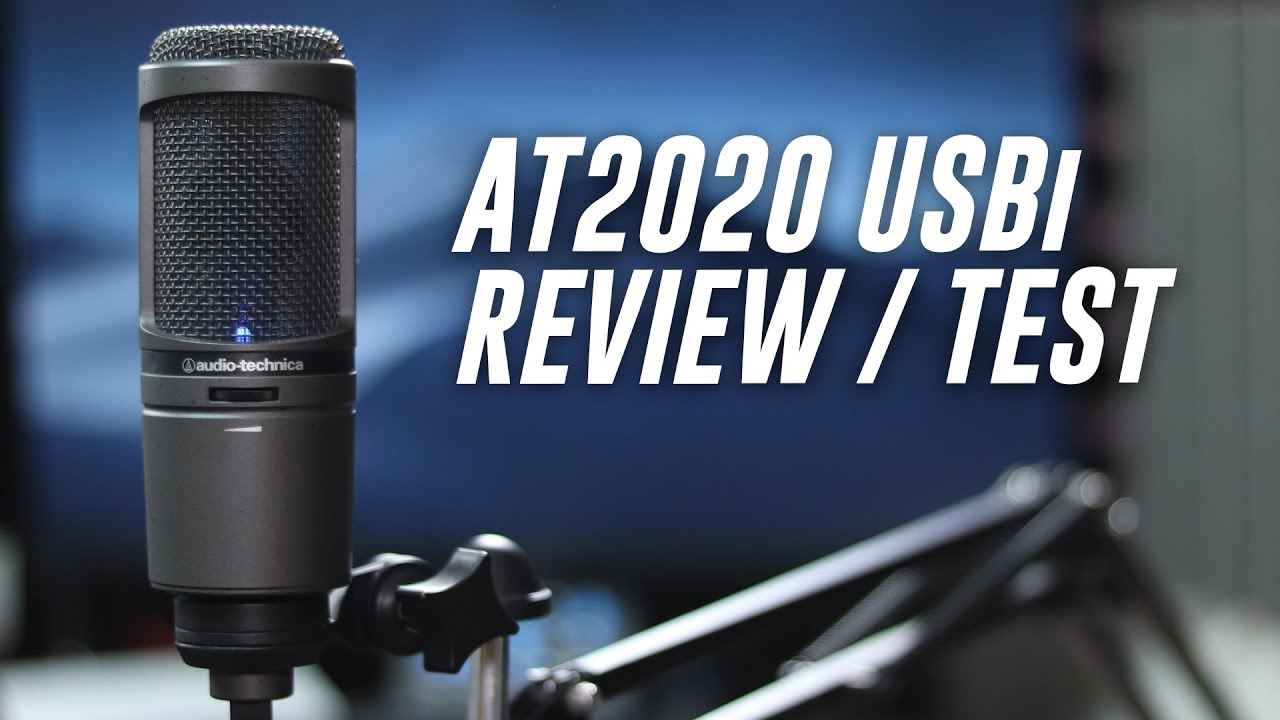 Описание
Today we take a look at the AT2020USBi from Audio Technica. This is an iOS compatible USB Condenser microphone that's also compatible with windows and Mac. The one main con of this mic is that it doesn't have 0 latency monitoring, but it does record up to 24-bit 96kHz.

Buy the AT2020USBi (Amazon)
Global: [ссылка]

Subscribe For More Videos: [ссылка]
Become a Member: [ссылка]

00:00 — Intro
00:29 — Disclaimers / Price / Setup
00:50 — What's in the Box
01:16 — Build Quality
01:58- Specifications
02:11 — Polar Pattern Test
02:30 — Background Noise Test
02:39 — Proximity Effect / Distance Test
02:48 — Plosive Rejection Test
02:58 — Latency Test
03:50 — Noise Floor Test
04:40 — iOS Recording Test
05:06 — Music Test
05:58 — Pros & Cons
06:40 — Overall thoughts
07:30 — Conclusion / Recommendation
08:30 — Outro

My YouTube Kit: [ссылка]
My Favorite XLR Mics: [ссылка]
My Favorite USB Mics: [ссылка]

NOTE (FULL DISCLOSURE): If you purchase an item using my amazon link, it provides me a small referral fee. For more info check my FAQ page links below.

Check the FAQ to see if your question was already answered: [ссылка]

Vote For The Mics You Want Reviewed: [ссылка]

Check us out, Follow us, & Like us over at:
Merch: [ссылка]
Discord: [ссылка]
Website: [ссылка]
Facebook: [ссылка]
Twitter: [ссылка]
Personal Twitter: http://www.twitter.com/bandrewsays
Отзывы
Youness SAAIDI
06-04-2020 21:57
Love these professional reviews, well done Man. Thanks
Mike Broderick Voice Over
23-10-2018 21:03
This microphone puzzles me. I own the AT2020 USB+ (at least for the time being), and it has a headphone jack, allows for zero latency monitoring, and works with my IPad Mini via the Apple Camera Connection kit. Apart from recording at up to 96K (which nobody uses), I can't see any advantage to this mic over the AT2020 USB+.
Pete Johns — Studio Live Today
01-11-2018 07:07
Love your reviews. My reviews (by self-admission) are very non-tech, so when I get questions from folks about the specs and the techs of audio gear, I now know where to send them!
Elena LaNigra
24-01-2019 17:34
I considered buying the usb version but I ended up going for the xlr version! Anyways I find your reviews very helpful and ever I am looking for a new microphone. I always turn to your channel because I know I can trust the information from it! And I like that you are a fan of the x-files, I love that show!
BurningFlare
23-10-2018 13:47
that throw was amazing
Anthony C
23-10-2018 17:08
A throw into a punch with a crash in the background. 🤯

The mic did sound good all around, but with no headphone jack, it would be a no go for me.
The Buttpod
25-10-2018 03:11
Love the channel. Have you ever done a review of the Sony ECM AW4 wireless system? I've seen a few reviews and looks like an interesting system, but the reviews aren't particularly good/helpful/quality.
CRIMINALS FAMILY
23-10-2018 14:20
There's no deferent between this and the original usb version ( in the sound quality right ?
And just for the Record YOU ARE THE BEST SOUND #equipment Reviewer in the youtube .. thank you 🙏🏻 big ✊ respect from iraq 🇮🇶
Eric Sirianni
27-11-2018 23:35
«I did a bunch of research on this.» (i.e. I YouTubed what Bandrew had to say)
BenjiDWJ
23-10-2018 13:40
Awesome video and review as ever 😁.
Oh Jesus, that was close… your going to break something one of these days!
James Jackson
23-10-2018 12:51
Great review yet again, Bandrew. You had me rolling when you punched that box in the air, lol. Anyways, the mic sounds great for something to take with you on the road and just record some basic song concepts into your phone so that you can keep track of them while traveling, but without the monitoring, it would really just be for single tracks. While that's a great use for the mic, the pricetag is a bit expensive for that when you could honestly use something cheaper with poorer quality for the same result. Definitely better to stick with the XLR within this price range in my opinion. Thanks for the video!
FineResolve
23-10-2018 13:48
Hey Bandrew, Great videos, i was wondering if you can take a look at the brand «alctron», it has great microphones for a decent price
at last review of microphone that i using 2 years on twitch streams ,for 2 years experience i can say ,that this mic is damn pretty good. I don't playing on music instruments, but voice transmitting is pretty good. I advice that mic for streamers,who don't want bother him self with audio card/XLR's and e.t.c. Just plug and speak…
Innopsis
23-10-2018 12:41
The lack of a headphone socket is a deal breaker for me.
TheLTGamer
23-10-2018 13:13
Nice video man! Did you get a new camera or angle? Looks great either way. I think if they had a headphone jack this would've been great. Technically you can use the usb plus and plug it into an iPhone.
Ahnold Short
15-03-2019 03:38
That Shaq line was lit! lmao
Do you think this mic or the 2035 is good for voiceover work ? I really trust your opinion and i've been watching you a long time. Before i made this account, of course lol
Tim Yonce
25-10-2018 00:20
Bandrew, Are you planning to a review on the Lewitt LCT 640 TS?
Cristian
23-10-2018 18:59
Hey, I know you'll prrobably be more busy making request videos in the second channel for members, but could you make a video talking about digital compressors compared to hardware ones? there used to be a lot of talk about it but that was years ago and most plugins are much better now (i'm talking about live production).

Also, great vid, the monitoring is kinda crucial for the usages that mic would have.
Can you try the earamble mic, for $10 it sounds unbelievable
GamingDemonz
02-09-2019 06:23
damn that mic must be good makes ur singing sound amazing lol
Rode NT USB vs AudioTechnika AT2020 USB+ comparison, PLEASE <3
Howesenberg Films
25-10-2018 13:58
Do you have any videos to explain what zero latency monitoring is? I don't quite understand the purpose / importance.
Shoomer1988
18-05-2021 05:02
Oh, and you can fix the latency in your DAW.
ACSpectator
18-03-2021 20:13
I feel like if we have a mix of this and the USB PLUS with both the headphone, monitor and gain knob, like inspired by the Shure PG42 USB. While also having the Cardiff pick up pattern smaller like the XLR version. We would get the perfect AT2020 USB mic.
FineResolve
24-10-2018 13:31
does a larger diaphragm capsule mean better audio quality?
UnknownFact
23-09-2020 16:26
The AT2020USB+ comes with the headphone jack, apparently, so it seems the manufacturer learned the lesson.
Blockchain 2.0
23-10-2018 14:50
Do you think the Rode NT-USB is the best value for streaming? (game streaming on twitch) If not I'm looking at the AT2020 and a cheap AXL sound interface..
Juan Valverde
17-07-2020 15:25
Hi does the AT2020USB+ work with IPADS using a USB to IOS cable adaptor?
Drake Coleman
23-10-2018 16:41
Your videos are very helpful keep it up
GUM DA RAPPER
26-12-2019 00:03
so if i understood you correctly, i have a 2018 model ipad with headphone jack connection, i can use that as monitoring so i can hear my self in realtime, when im recording in garadgeband???????
Zildjan Soneja
23-10-2018 12:30
Good video!
CrazyCatz
12-05-2020 21:00
Can you do a video exactly alike this but with the sudotech ST810
Alan Sabu
23-10-2018 16:56
im getting a AT2020 and umc 2 mixer. I was wondering if the mic quality would be good? I really new to audio, I dont want to spend a lot but im fine with 120-30 pounds ish but thats including the mixer
Chazz Ravenelle
23-10-2018 14:41
I wonder if there's a discernable tonal difference between this and the at2020+. The ability to record up to 24bit/96khz is great and all but if both microphones sound the same then all you're really paying for is higher resolution and additional iOS compatibility at the expense of zero-latency monitoring/playback. I guess this would be more useful for musicians or anyone who wants to record into their iphone/tablet but there are other microphones of this price that offer the same quality and features *with* a headphone jack. I actually used to own the USBi for mobile use. Loved the sound but I ended up selling it. I currently use the Apogee MiC plus for mobile recording.
X-RaY ViDz
23-10-2018 12:43
Hi Bandrew, before i decided to buy the baby bottle SL I was strongly considering AT 4040
Qeyraan Grg
24-10-2018 07:58
Make a video on Best condenser microphone under 100$ 2018.
Vignesh Vicky
23-10-2018 13:23
That box 😱
Gener Cruz
19-04-2021 03:26
is it good for band livestreaming?
Sapele Steve
23-10-2018 19:02
Yet another mic that I won't be purchasing & I accept your apology Bandrew!
how does this mic compare to the SAMSON C01U PRO?
hey can anyone tell me what the best mic would be for my situation. I want to use it for streaming / gaming / youtube.. My gaming PC fans are pretty close and can get some what loud and I have a pretty loud mechanical keyboard. would prefer USB as I want to limit my cost to under $150 including boom arm/mic stand. Was eyeing up a Blue yeti but I dont think my environment is quiet enough . Thanks!
is this mic compatible with pc?
I agree at that price there should be a headphone jack — after all, their $80 AT2005USB Dynamic mic has it (AND an XLR jack). As does the AT2020USB+, a lower cost version of this mic, limited to 48kHz with no lightning cable. And why micro HDMI ??? It just seems odd…
govind vaidya
06-10-2020 13:50
Dear friend, your demo is very useful.: i have also seen your demo on SHURE mic.
I request your advice on:
I want a creat a home vocal( singing) recording facility using apple ipad.
I intend to buy AT2020-USB-i. OR. SHURE MOTIV MV5 usb mic. Can you suggest which of the microphone is suited to me in terms of quality of sound and features.
Thanks and request your reply
Dilip, India
CubyX Diamond
23-10-2018 12:49
thank you ! 👽
Shahenshah
24-10-2018 17:35
Brother suggest me that can bm800 mic quality be good with usb sound card?
DarkPa1adin
26-10-2018 07:53
it seems that you will not run out of mics to review and compare. AT4040 vs MK4 vs Lewitt 440
Standxo.
08-12-2018 22:11
is this the exact same as USBplus just with ios compatibility?